To cut firewood manuals requires much hand power and also support for other people to use saw.
For this chainsaw is one of the best tools which quickly provide a good response to cut wood for the fire.
To get the best performance forever use then you require the best chainsaw for cutting firewood.
In the market you see varieties of chainsaw found but you can't judge which one is best for wood cutting.
We find such an amazing chainsaw which provides qualities and as well as great performance to use for a long time and can also do firewood business.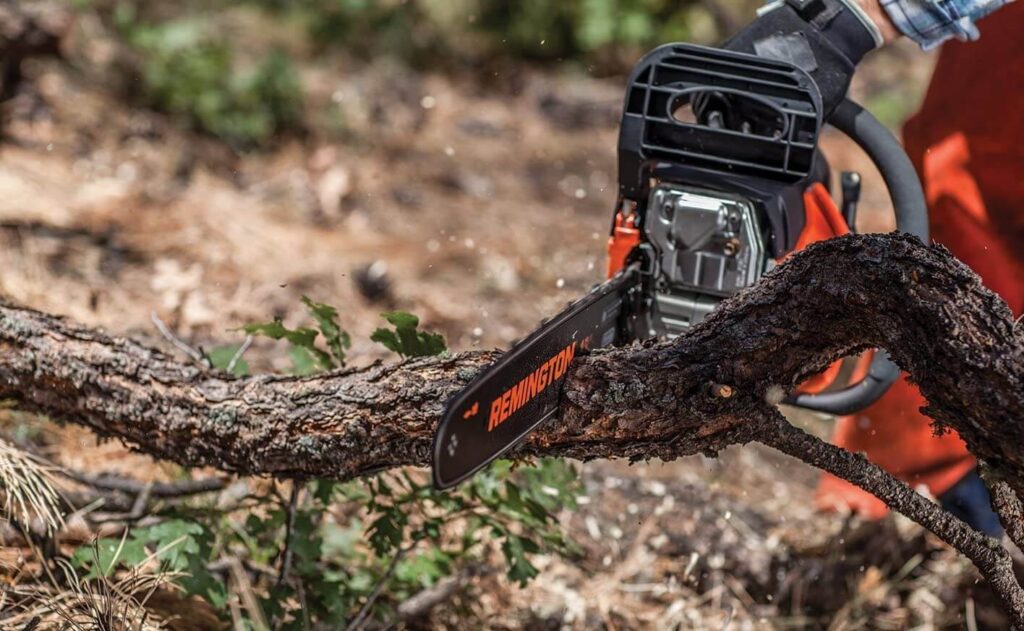 Oregon Self-Sharpening Electric Chainsaw
This is the corded electric-powered Oregon CS1500 18 in. 15 Amp Self-Sharpening chainsaw.
The great thing about this chainsaw is no pull cords, no warm-up, no gas-oil mixing, no emissions but it comes with an instant start.
This tool comes with a couple of interesting features that are perfectly used for cutting firewood. It works on 15 Amp so this makes it a fairly powerful electric chainsaw.
Oregon cs1500 comes with a function that is a self-sharpening option, for that you get a button
by pressing it and holding it for three seconds, by doing this your chainsaw will be back as a new super sharp.
This product comes with an 18-inch long guide bar. So, that is a normal full-sized chainsaw. While fixing the chain of Oregon you don't need to get the extra tool to tension its chain.
The things that you want to get rid of the lawn, or garden no matter the size of wood only plug it
into the circuit and turn on easily cut tons of pieces of wood that you can use for multipurpose such as for burning them on a cool day.
The noise of this motor is quite good for the homeowners. It can't disturb your neighbor from sound and
do multiple jobs at home. This can be the best tool by using it. People can easily cut their wood to burn it.
You don't need to assemble it. Oregon chainsaw comes pre-assembly you only need to put oil in its tank
which makes it run smoothly and it also has an oil indicator that works as a reminder of how much lubrication oil is left in the tank.
For a householder this saw for cutting firewood, can do an amazing job even the hardest wood.
This can cut neat, clean, and as well as fastly you don't need to enter your more hand power to run this tool even a woman can easily use it and collect bundles of firewood.
Pros:
comes pre-assembled.
Budget Friendly
Self-Sharpening Corded Electric Chainsaw.
Instant brake chain when you leave the hold trigger.
Easy to use even a beginner woman can easily use it.
Such experts highly recommend it.
Cons:
Husqvarna 18 Inch 455 Rancher Gas Chainsaw
If you have tons of wood and want to cut all of them and make pieces for firewood, require a chainsaw that comes with full power and provides ultimate performance to make many pieces of wood.
It comes 55. 5cc engine that generates 3.49 hp Horsepower and has 2 cycle engine with intertie activated chain brake for safety while operating it.
If want to use it for a career then this can be a perfect tool that is Husqvarna 18 Inch 455 Rancher Gas Chainsaw.
This is the engine-powered Husqvarna chainsaw best chainsaw for which cut big, small all types of tree and can be used for business.
Husqvarna is one of the popular brands that comes after the stihl chainsaw in the hand cutter market and has been around since 1689 providing value to users.
What is the main thing which makes this chainsaw best for firewood business and home use is the fact that it is the lightweight fuel-powered product you will find for cutting better firewood?
It only weighs 20 pound that is more lightweight than other local types of chainsaws which you see mostly locally assembled chainsaws in offline markets.
Husqvarna 18 Inch 455 Rancher is not an ideal product for business use. This tool is an ideal saw for homeowners or big land owners who require heavy duty and high powered chainsaws for their work.
There are many reasons which made it ideal for cutting every job such as firewood. This product comes with an install of X torq engine that works lower emission by 60% and this can reduce the consumption of fuel and gives better performance.
This feature saves your money on fuel and you cut for a longer period with a single refill of tank.
The main issue with most chainsaws is that they suddenly kickback for this prevention Husqvarna activated chain brake, this can be the best option for stopping the chain of this product.
Value gets users from it more and saves your time that you spend on cleaning its filter. This provides a Centrifugal Air Cleaning System
that prevents large dust as out of air filter results it requires only fewer cleaning and makes it for the longer-lasting chainsaw. if you have a limited budget you also see a list of best chainsaws under 400.
Pros:
Value for money 100%.
Long term value capability to do big projects.
Easy to start
Cons:
Remington RM4618 Outlaw 46cc 2-Cycle 18-Inch Chainsaw
This is the budget-friendly Gas Powered chainsaw which comes with multiple features that can be used for many purposes.
This chainsaw saves a bit of cash and still gets a chainsaw for firewood, this can be the next choice if you want to buy gas-powered chainsaws. This one is one of the chainsaws that provide multiple functions and features to the users.
The engine of the Remington is less powerful than Husqurana, the engine capacity of this tool is 46 cc with full crank 2 cycle power.
Its engine provides full power with less vibration, and it comes with a Premium 18-Inch chain bar and has the function of low-kickback chain cuts through even the toughest wood it can cut quickly and easily.
This tool is designed for quicker and smoother cuts that can be used to cut long enough to limb-up trees, cut down small trees, and make pieces of wood for the fire.
Remington cannot be used only for cutting firewood to get to work right away on lawn care, yard work, and other small and large DIY projects. This tool is even a great chainsaw for logging.
This tool also comes with fewer numbers of some great features that can help for your smooth and butter-like cutting of wood.
In this chainsaw instant, quick start technology makes starting easier for users even a woman can easily switch on this gas-powered chainsaw.
This tool also has some copy from the husqvarna model of adjustable flow oiler in this machine for chains.
Its handle provides perfect grip and also has an anti vibration system which helps to not quickly Fatigue during work and this thing makes it easier to handle for a longer period of time.
Also provides proper amount deliver Remington RM4618 Outlaw 46cc 2-Cycle 18-Inch Chainsawon its chain to make it for longer use without any chain problems.
Pros:
Comes with an anti-vibration system.
Backed by a 2-year limited warranty
Worthy tool
Cons:
ECHO CS-271T 12 In. Chainsaw
ECHO CS-271T 12 In. Chainsaw is a gasoline powered low weight chainsaw, this tool comes with different you can buy according to your requirement and choice.
So, this is the small 12 inch chainsaw that can do multiple work in a shorter time and make the little pieces of wood easily.
This tool also comes in a 14 inch bar for small jobs at low prices ECHO CS-271T 12 In. Chainsaw is the best tool for cutting firewood.
This product is made in japan which also its durability is full to the users by its quality material used on body and engine and well as on bar.
This is the one of the patrol runner chainsaws which provide ultimate performance and perfect grip on its handle. It comes with anti vibration technology that helps to provide longer jobs easily without more fatigue during tasks.
The chain of this tool is auto adjustable and the engine which provides power to the chain is 2 stroke with the engine displacement almost 27CC and the thing of not right that is fuel capacity tank it comes with 8.1 oz capacity.
Pros:
Small sized with lightweight.
Even use with single hand
Made in japan.
100% Value for money
Easy to use even a almost new people can easily use it
Perfect for climbing on a daily basis.
Much more!
Cons:
Medium size of fuel tank.
Poulan Pro 20 in. 50cc 2-Cycle Gas Chainsaw
This is the fuel powered with 50cc 2-Cycle Gas Poulan Pro 20 in Chainsaw, this chainsaw is lightweight and the total weight of this product is 17 Pounds.
This power tool is fully assembled with much high quality material and full attention. You can drop big and small all types of trees with
bushes and make the perfect pieces of wood that you can use and sell them for as firewood that you can also use that wood in your chimney.
This tool is affordable for homeowners. It is one of the toughest 20-inch chainsaws for cutting firewood, wood can be thick or thick, its powerful engine provides strong power to cut both types of wood.
This product also offers many technologies that can be used to make your work easier and faster, it comes with a powerful engine which offers
with technology 20% lower fuel consumption and 70% less emissions which save you a lot of money that in fuel in big tasks.
Also takes low power by pull start , it comes with an effortlessly pull start system which can reduce your hand power up to 30% more easier and faster start as compared to other types of chainsaw in markets.
It contains a purge bulb that delivers the carburetor with fuel and makes it quick start with easily fewer numbers of pulls this also reduces the risk of any damage of this tool.
For chain brake install inertia activated system, this prevents sudden kickback of chain, like the all other product it also offers automatic oiler that keeps your chain and bar well oil at all the time.
For firewood this is the great option of chainsaw it may not provide from other project value but consider this one is the best chainsaw which can be used ultimate time to cut the tons of pieces of Lumber.
Pros:
Effortless pull starting system.
powerful 2-stroke engines.
Well octane well performance.
Inertia-Activated Chain Brake.
Cons:
Mostly complain of its handle.