Have you pondered how skilled furniture makers successfully transform even the rough materials into the most delicate items on the market?
If you do have, you are most likely a newbie carpenter trying to improve your skills. Your expertise, as well as the instruments you employ, are two essential aspects of this.
A drum sander seems to be a large, powerful sand appliance that can eat through any material in a couple of seconds.
The material is supplied to a sander blade by a conveyor belt.
Drum sanders are available in open & closed designs and can be in one and dual drum setups; therefore, these are ideal for finishing and dealing with variant board sizes.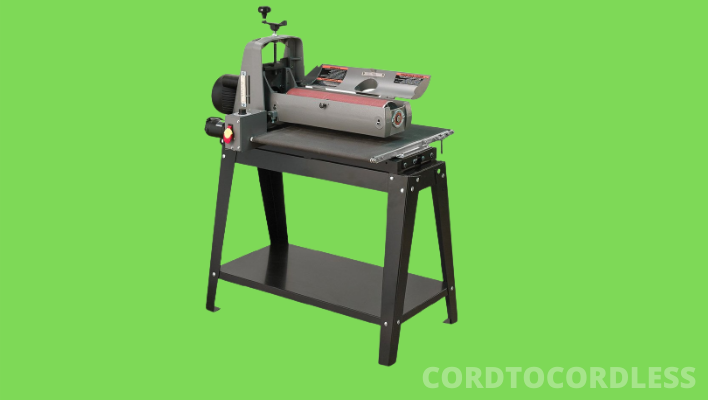 It would help if you looked into several things before buying the drum sander for small shops, like its motor speed and power and single or dual sander.
Let's dig into the article to find the best one.
JET Drum Sander
Features
The JET drum sander with a weight of 156 pounds has a reasonable size of 39 x 22.5 x 25 inches, and it won't eat up much space, as well as it is undoubtedly the best one due to its compact design.
Thanks to a 1.5 HP engine and capacity to cope with items up to 16 inches in length and 32 inches in width.
It is the definitive drum sander device for every skilled hobbyist, woodworker, or even a craftsman as it can efficiently and reliably manage and accomplish any regular chores.
This drum sander is engineered to last with an aluminum drum that dissipates heat and protects the work area from thermal damage.
An installed dust hood with channels removes shards and debris from the way of your job.
Another fantastic feature that spices up the worth of the drum sander is its lowest noise level of 63dB, so that using a drum sander in small shops won't be a headache for you and the people around.
A manual wheel just at the side of the machine allows you to accurately choose depth by altering the drum level by 1/16″ with every spin.
Also, set and check the depth while working. Using a belt that drags the material through the drum rather than pushing it improves the machine's efficiency.
Last but not least, this unit, with an attractive price, comes up with a 5-year limited manufacturer warranty so that you can get your unit repaired if something gets wrong.
JET Drum Sander
Features
The jet 1020 drum sander comes up with a weight of 73 pounds that makes this unit relatively lighter comparatively, and also has a reasonable size that won't eat up much space.
This drum sander is constructed of high-quality aluminum and steel, giving it great longevity and reducing vibration.
The chosen material utilized in building this drum sander has a significant impact on its strength and functioning efficiency.
This unit is powered by a one-horsepower motor with a voltage restriction of 115V that is quite helpful in rotating the drum at 1725 RPM speed.
Also, both drum and conveyor belt are driven by a powerful motor, and also for the conveyor belt, this drum sander has provided a DC motor.
The unit has a unique dirt hood that directs most of the dirt to a four in. dust hole that could be attached to a dust collector, and it guarantees the user's safety and the device's performance.
The wide sanding drum measures five in. diameter and ten in. as long as the diameter of this drum allows users to sand a 10-inch broad material in one run.
However, users need to pass a 20-inch comprehensive material through machinery twice, with the distal end turned in every time.
The drum includes a unique self-cooling function that prevents heat damage to the wooden block and the drum.
It could save you a lot of time and effort, but you must be careful with the amount you place on the drum.
It's simple to swap out the rough covers as the procedure doesn't necessitate the use of any specific equipment or abilities.
This drum sander has a 3-years limited warranty by the manufacturer so that you can quickly get any part repair in this time duration.
SUPERMAX Drum Sander
Features
The supermax drum sander has a weight of 245 pounds that makes this unit quite hefty, but it has a reasonable size of 41.75 x 57.62 x 57.62 inches that won't eat up much space in your room.
A mighty 1-3/4 HP motor powers the SuperMax drum sander as it has a higher performance rating than the other 1-1/2 HP drum sanders.
The drum sander's power level allows it to quickly polish bamboo and hardwoods for a solid professional finishing.
This drum sander has a larger drum size, measuring 19 in. in diameter, which means that this machine can operate efficiently on wood up to 38 inches wide.
This gadget works with large pieces, as well as the extra space is a plus no matter what material thickness you use.
The dust outlet on this drum sander is among the absolute highest quality, and it does have a metal hood with a dirt vent of 4 inches.
Also, this metal dust port is powerful and long-lasting.
Furthermore, the dust collector's filtering system does a superb task of maintaining dust and other particles away from working components.
One of the best features of this product has been that it mechanically locks into place, enabling users to sand in the same spot over and over again.
Also, the latest technology used in this drum sander changes the speed dependent on the feedstock, and the drum's downwards or upwards pressure.