When it comes to knife making, having a decent band saw is essential for both professionals and do-it-yourselfers.
Check Our BesPicks For You
When using a band saw, you can create several cuts in a piece of work by changing the position of the blade and the angle at which you cut.
Band saws are handy power tools because they can cut wood and metal in a curve, straight line, or irregular form.
A great way to manage the cutting process is to utilize a band saw, essentially a long, thin looping blade running between two wheels.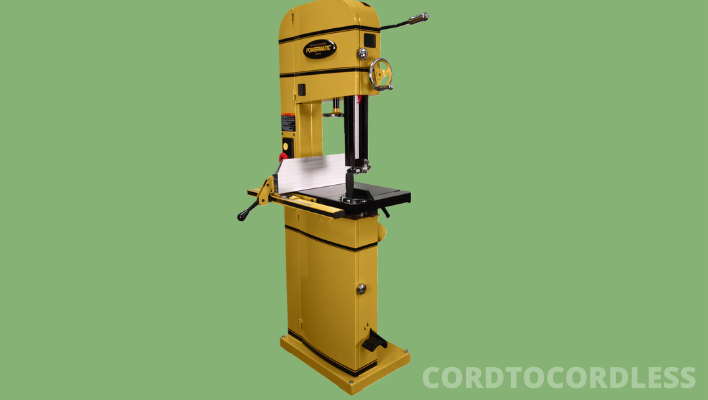 Consider the key factors such as mobility, power, maintenance, and any extra features that one model may provide over another when shopping for a portable band saw.
You can pick the model that most closely matches your requirements by selecting the best bandsaw for knife-making models.
DEWALT 20V MAX Portable Band Saw
The DEWALT 20V is well balanced and ergonomically designed tool for knife making.
The hook and blade tracking can be adjusted to extend the life of the handle, the base, and the blade. LED work lights enable people to work in dimly lit areas.
Features 
Portable device
This DeWalt little band saw has a compact footprint and is lightweight and easy to use, making it ideal for cutting in difficult-to-reach areas.
2.5-inch cut capacity 
The metal band saw can cut up to 2-inch SCH 40 pipe with its 2-1/2-inch cutting capacity.
It is possible to change blades without using a tool, thanks to a blade changing lever.
Idiot button
Furthermore, this model includes the "idiot" button, which is a second button that must be held down while operating the saw, making it less comfortable and a little more challenging to use than competing products.
Stress-Free Maintenance
Because of the band saw's precise blade adjustment, you can get a flawless cut every time.
The blade will last longer, and you'll save money as a result of the reduced wear.
There are two sets of bearing guide rollers in the blade support system, which make this tool highly stable and durable.
Other functions
An LED Work Light illuminates dark work surfaces with a 20-second delay for accurate DEWALT band saw cutting.
Thanks to the included hang hook, the saw can be hung without harming the front handle or base.
Ergonomic
Using the DEWALT DWM120K is a breeze due to its excellent ergonomics. Hand space is adequate, and the front handle can be angled to match the user's preference. It enables you to cut through anything and anywhere with comfort.
JET JWBS Steel-Frame Bandsaw
JET JWBS Steel-Frame Bandsaw includes a resawing feature and all-cast iron construction.
Customizable table angle and blade tracking window are also included in this machine's components.
However, it's a beautiful band saw for experienced and professional users because it can handle almost everything.
Features 
The capacity of 12-inch resaw
The cutting surface of this 5×15-inch bench-top band saw allows it to cut materials up to 13.5 inches wide and 12 inches high.
The capacity of this saw is absurdly big, but knowing that it can handle large pieces of wood. Cutting medium-sized lumber will be a lot less stressful with this tool.
Drive system
The high-end band saw is designed for professional use; the JET JWBS-14DXPRO cuts wood, metal, and other materials very easily.
To cut at 1,500 or 3,000 square feet per minute, it has a two-speed poly-v belt driving system (sfpm).
Frames at the top and bottom
The entire framework has been rebuilt and made of cast iron. This machine is heavy and well worth it.
The saw's cast-iron frame can support even the most significant pieces of wood. It is highly stable and does not wobble when in use due to its heavyweight.
Blade Tracking Window
Many blade tracking windows reflect light into the user's eyes, making it physically difficult to see well.
However, this isn't possible with the JET JWBS-14DXPRO; the blade tracking window is the best because it's so simple that even a beginner can use it to make accurate cuts.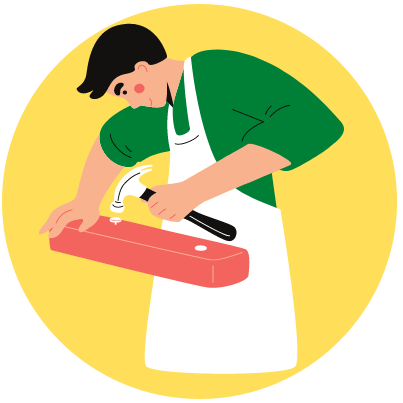 Co-Founder Cord To Cordless
Huzmad is a hobbyist and experienced person from the wood and metal industry. Only try to build constructive things using corded and cordless tools.
In addition to his construction experience, Huzmad also a Gardener and home improver Whether it was helping brothers to make cedar cabinets, and use the machines as a passion to do-it-yourself mentality runs strong trust in this field
I am excited to help you to handle your projects and discover new ways to improve your home and reduce your efforts by doing well at your jobs.