For home building or repair wood play an important role in that time, to cut the wood with different size and angle the miter saw is the best and safest choice to go with that.
Our Recommended Miter Saw For you.
If you are interested to see our top best miter saw for home use this article to show helpful content for you, to get the knowledge about tools.
What type of necessary qualities and features a miter saw provide you that you take benefits to use on home.
The best miter saw for homeowner beginners is easily used for home improvement and maximum precise results on wood cutting.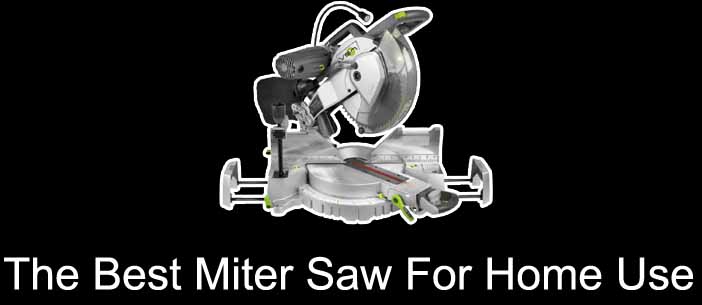 This tool is easily used at home for following works; furniture repair, picture framing, crown molding, cabinet making and much more.
DEWALT 20V MAX 7-1/4-Inch Miter Saw
This is the battery powered cordless miter saw by the dewalt . This tool is fully adjustable and you easily do your home jobs on this tool.
This tool uses a small blade option that is 7.5 inch which moves very fast and easily cuts in depth on material and if you see the list of best miter saw for homeowner dewalt miter saw is on the list.
This best saw is the upgraded version that provides you different angle cross cuts even having a battery powered motor you also cut a bundle of cross cuts at single time.
Doing it forward and reverse this has sliding which you compare with spring options that show the durability of this tool.
At some time the spring break and the saw is not able to do desire work, its sliding option help you to move blade through handle easily
at some time dust, stuck on its handle that will be happened after a long time you use grease which again makes it able to move as the new saw works.
Dewalt uses adjustable detent plates and this Adjustable stainless steel miter detent plate with 11 positive stops that help operators to improve productivity and ensure cutting accuracy.
You can easily Oversized bevel scale makes that bevel angle adjustments accurate and easy even if you also keep a large size of wood board to cut that with maximum accuracy.
Dewalt cordless miter saw also has a Precise miter system and machined base fence support to optimize the durability and cutting accuracy of wood.
The design of this item is compact and comfortable by adjusting the wood board timber press. It is slowly cut smooth and well and as well the handle that one keeps on hand is also comfortable to make the cutting attention more better for you.
Dewalt cordless miter saw is a versatile tool. You not only use it for home, you also use the following purposes: woodworking, crown molding, trim, diy, finish carpentry, baseboard and much more and make the best choice for the homeowner.
Dewalt saw is somewhat lightweight. You can easily transport it from one jobsite to another one and easily make the storage of this tool at room or garage.
Moreover the trust of dewalt on this miter saw is too much you can guess from their manufacturer providing 3 year of warranty of his product and this one shows itself a better improvement tool for you if you want to go with cordless option with affordable price.
BOSCH 12 Inch Corded Dual-Bevel Sliding Miter Saw
Bosch is one of the favorite miter saw woodworkers because this tool provides almost all that feature and function that the customers are happy you also will be happy with that tool if you want to complete your bigger project.
Because this one also a best 12 inch sliding miter saw 2021 for home use, the great thing of this miter saw is that you can easily use a different size of blade if the nut matches with that blade size you easily adjust different size of blade but below 12 inch.
This is the corded electric powered saw as well you easily do you work on this tool at home if you have more budget than this tool you also take this tool with a stand that makes the jobs more comfortable for you.
Because on stand you easily keep the longer size of wood and cuts with more accuracy. This tool is powered by a 15 amp motor which generates amazing power to make it suitable for cutting wood pieces.
This tool is really lightweight. The weight of this product is around 0.2 pound which makes the transportation jobs more fast and easy for you.
The capacity of this tool for cutting is amazing; it also increases cutting capacity 14 inch horizontal capacity nominal 6 1/2 inch vertical capacity against the fence base 6 1/2 inch crown capacity against the fence 45 spring.
As well the bevel adjustment of this tool is more accurate its bevel detents: 0 to 33.9 degree, the 45 degree left/right for more accurate cuts; Category best 90 angle and for more and regularly cutting use for dust collection optimized for cutting 2x material with a vacuum.
Genesis 15-Amp 10-Inch Compound Miter Saw
Genesis has the modern design miter but also a best compound 10 inch miter saw for home uses.
This powered 10 inch blade option the great thing of the 10 inch blade is that it rotates more faster than 12 inch blade but the depth of 12 inch more than that one.
This choice is the best for you to use cutting for crown molding, shadow boxes, Picture frames, and much more you can take tasks from this tool at home.
to make the more precision miter cuts up to 45 degrees left and right, with 9 position stops at commonly used angles which are mostly used on woodworking at workshops.
Makita 10″ Compound Miter Saw
This best 10 inch compound miter saw is made by the brand makita that is corded electric power source tool which have a Powerful 15 AMP direct drive motor for improved performance; 4,600 RPM that make it best corded miter saw 2021.
This affordable price miter saw also has the most common positive stop. The Positive miter stops at 9 different settings/angles: 15, 22.5, 30, 45, right or left and 0 (90 cuts).
This is the small size miter saw which makes it top rated and good in the wood industry which easily tackles a variety of wood ideas including diy projects.
DEWALT 12-Inch Double Bevel Sliding Compound Miter Saw
If your choice is always with dewalt and want its best edition of corded option also best 12 inch compound miter saw 2021 the DEWALT 12-Inch Double Bevel Sliding Compound Miter Saw is the excellent choice for you.
In this tool fitted a Powerful 15 Amp motor that 3,800 rpm motor delivers extended power and durability for the mitre saw.
This has a Adjustable stainless-steel miter detent plate with 10 different positive stops which help the operator to improve productivity and ensure cutting accuracy on any material.
This tool comes with a maximum number of features that help to make the jobs more comfortable as the bosch miter saw provides this you also get.
The frames of this tool is excellent and as well you also make the transportation of this product very well from jobsite to jobsite.