The cutting crown molding miter saw can be a perfect choice because it makes work a lot easier.
Our Recommended The best tool to build a PC
Miter saw is a necessary tool of every woodworking workshop. That's why you need the right tool which provides you a longer performance you do not need to buy again and again.
Selecting the right one in the market may be difficult for you; we researched and collected the best miter saws for crown molding.
These saws were not selected randomly, they were picked based on experts recommendation and the few criteria which make the cutting process will be more efficient and easy for operators.
DEWALT 12-Inch Double Bevel Sliding Miter Saw
The Most liked and recommended miter saw is DEWALT DWS780, this model of DeWalt delivers excellent performance with longevity.
This tool is equipped with a smart XPS system of light that makes the cuts more accurate. Dewalt comes with a 15 amp motor which provides 3800 RPM by having this speed you not worry about its power.
This can increase your productivity while making repetitive cuts. So, the tall fence, the crown stops, and the sliding ability will make the cutting large crown molding easily you can not imagine.
Its durbale bevel help you to increase productivity while cutting trim as well makes the jobs more easier and quick for you.
Are you looking for a miter saw that is easy to use and as well versatile? Then you no need to look more because DEWALT DWS780 12-Inch is one of the best one
which has both feature versatile and easy to use even a newbie easily use it for cutting verity of project if decide to take the ideas from internet do valable more jobs from this product.
The saw can be adjusted to cut at any angle and for crown molding set it to 45 degrees for one side of a standard 90-degree.
The saw can be set to 45 degrees to the left or 45 degrees to the right; these angles are mostly used for cutting a variety of different crown molding sizes.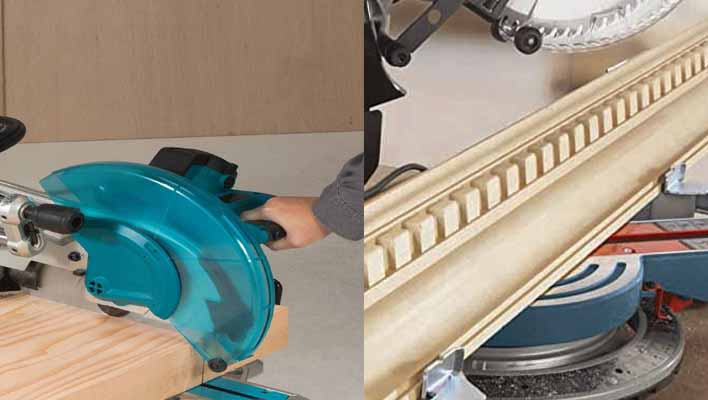 You can cuts up to 2 by 12 dim lumber at 90 degree at that option you easily make the pieces of Square Cut Crown Moulding along with 2 by 12 at 45 degrees
that is the most common option which uses for a variety of different cutting crown molding such as Scarf Joint, Outside Corners, Inside Corner Using a Coped Joint, Corner Blocks adjustment, and much more.
This support on crown molding starts up to 7-1/2″ nested and base molding up to 6-3/4″ vertically against the fence at the same time easily here you get more cutting opportunity created due to double bevel having features on this tool.
The stainless steel material of this product helps to prevent corrosion and make it stronger and more durable by increasing the working life.
The weight of this product is 56 pound as well you also carry it anywhere from one jobsite to another one around where you keep it for heavy cutting this may not vibrate due to weight of this product and cut the board smoothly.
Dewalt is also a highly efficient dust storage system that collects around 75 percent of the dust generated from your cutting. Making cleaning a lot easier.
If you have a lot of work then you also buy an extra blade or if you go along with a used miter saw that is better for you to select the
best miter saw blade for cutting crown molding which you use on this 12 inch Dewalt saw and all of that thing also makes it the best compound miter saw for crown molding.
Bosch Dual-Bevel Sliding Miter Saw
Quality and things which you do not see in dewalt you found on Bosch Power Tools GCM12SD miter saw, this can also be a best choice for experts for tackling bundle of projects of crown molding.
There are many reasons which make it reliable for many professional woodworkers to the beginners.
This can be used for on site jobs as it comes with 15 amp of motor which offers more compact and smart design.
The dust collection system on this product is more improved that helps to prevent dust on your workshops.
This durable miter comes with the prominent axial glide system, the bosch dual bevel sliding miter saw get to much favor of many pro level woodworker in which include carpenter,
cabinet maker, and contractor and they get amazing results from this product on their jobs that's why they were satisfied with its performance as well it is a great competitor of dewalt and makita miter saw.
This product is well built and reliable and can be used for verty of jobs. The design of this tool offers smart and compact. As well the sliding behavior to the work makes it a best sliding miter saw for homeowners.
This product is associated with 2 square locks that quickly release fences to support the release table to support bigger and as well small crown molding pieces with 6-1/2-inch vertical capacity, and a 6-1/2-inch crown capacity.
As well for versatility when it comes for cutting its capacity range of 12 inch horizontally and 6.5 inch vertically against the fence base.
This offers a full opportunity to cut any way where you feel comfortable and cut what you desire. If you buy an old used miter saw and
its accuracy is not better you also select a best miter box for crown molding as well you also be sure to use that one for a new miter saw for better accuracy.
It's easy to read, uniform miter scale and adjustable creates the accuracy 99% perfect, and to clean the environment and store dust collection features
to clean the workplace as well as prevent dust from other machines. If you work in a small shop then you also check the best shop vac for the miter saw.
Skil 10″ Dual Bevel Sliding Miter Saw
If you want a dual bevel sliding miter saw but at a cheap price and provide also best performance like the other one then Skil 10″ Dual-Bevel is a worthy choice that you can use for crown molding.
This best 10 inch miter saw contains powerful motor that deliver 4800 RPM which make the cuts more smooth and detailed cuts, you can adjust any type of Tooth blade which you consider right for your tasks.
If you are interested in a table saw this can also come with 10 inches of the best table saw option if you consider it right for your tasks you can also use them but the crown molding miter saw can be the right choice.
CRAFTSMAN Sliding Miter Saw
Craftsman sliding miter saw is a cordless tool that can be used on anywhere or full space such as a homeowner can use it at lawn and for cutting crown molding even the use of a battery this product provides amazing performance.
This cordless miter saw is a lightweight property and also contains tight grip for timber and can be used for cross cuts.
The slide capacity of this product allows for 8 inch cross cut at veritically 90 degrees and 5.5 at 45 degree
which you can also set by that type of designed molding cuts you required for and adjust at the corner or anywhere at projects easily.
Due to the lightweight make the jobs more easier and you will easily use them to make the perfect crown cuts.
This corded electric power comes with a powerful 15 amp motor that generates 3800 RPM motor that helps to extend its durability and power while cutting the crown molding at any design of cross cuts.
This tool company to make it portable add a handle that is specially designed which adds portability more easier
and make the jobs that you won't consider make for your easier to transport from jobsite to other place.
For prevent from the dust of the wood
Makita 12″ Dual-Bevel Sliding Compound Miter saw
Makita LS1219L is the best 12-inch double bevel sliding compound miter saw that can tackle tons of woodworking jobs due to its versatility.
This tool power and performance look like the DeWalt dual bevel but Makita engineers try to make it a better and improved miter saw for both beginners and experts.
It is the corded electric powered 120V compound miter saw, this tool contains of a sliding system that looks like a hydraulic that offers a single slide operation.
The great thing about this product about crown molding is that it can increase the capacity for up to 8-inch crown molding vertically nested and not only for crown molding this can also 6-3/4 inch baseboard and 15 inch cross-cuts at 90 degrees.
Makita sliding miter saw contains twice dust collection ports that provide amazing dust extraction which can be a right for your work and prevent the dust of wood timber or baseboards.
This is one of the best saw for crown molding which is fully packed with several features and to keep the fincationaly and capable at the forefront of jobs.
This comes with a 12-inch blade option and a powerful motor of 15 amp which generate much of the RPMs that are desired for any job because this one is also a versatile product.
One of the excellent functions of this makita miter saw is that the electronic speed control to ensure the speed blade is kept constant whenever lumber/timber thick or thin.
Its sliding system is specially made with the accuracy put in mind it offers 6 linear ball bearings that help in increasing the smoothness and rigidity of motion.
if you want do crown molding at kitchen cabinet you also check types
FAQ:
How to Cut Crown Moulding?
What is the best miter saw for crown molding?
DEWALT DWS780 is the overall best choice for crown molding, this product special offers a tall sliding fence that supports crown molding, and its 12-inch dual bevel blade allows the operator to take as much cutting as possible at any degree from that one.

As the bigger blade size, the speed of its 15 AMP motor delivers 3800 RPM but the cuts are deeper which will help you while making crosscuts for crown molding that you can easily use in tons of places.

This product comes on much percent under the budget you choose the size otherwise this one is top-notch and one of the best miter saw for crown molding.

If you already test this product, not like this one after that woodworker that mostly recommends that is bosch miter saw.

What size miter saw do I need for crown molding?
The 12-inch miter saw is the best size in which to cover all below size blades such as 7.5 inch and 10-inch blades.

Otherwise basically it depends on which type of your work and your job requirement for example if you use it for one time at home as a homeowner then you select the desired size. The 12 inch is the ultimate size that can be used for a variety of jobs.

And if you buy 6.5 inch miter saw and you need a 12 inch of depth you can not take that thing on this blade as for that 12 inches is the best size of miter saw that you need for crown molding.

Do I need a compound miter saw for crown molding?
It is not necessary and does not mean without a compound miter saw you can not use saw for crown molding.
Compound saws are superior because to cut the miter, the saw tilts to cut the bevel and rotates to the left or right to make both angles with a single cut.