For cutting thick branches and tall hedges of grass, a pole saw will allow you to cut easily without a ladder.
Using a gas-powered pole saw of the professional type can easily reach and as well powerfully cut your desired thing and provide you with the best results.
If you are worried about finding the professional best gas-powered pole saws you are in the right place, where the selection becomes easier for you.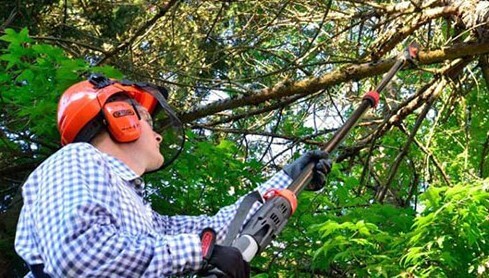 We select some of the best gas poles saw that is going well on markets and the best choice for the money.
Remington Maverick 25cc 8″ Pole Saw
This two cycle gas powered pole saw from Remington is simple to use and has been designed to allow easy cutting of the branches and the limbs with no need for a ladder.
In addition to the heavy duty 25cc engine, it also features QuickStart technology, ensuring that the pull starts and goes smoothly every time.
This tool is equipped with an 8″ bar and chain mounted on the base of a seven foot extension pole. The extension pole provides a 12 foot length for pruning the branches and limbs.
A short version of the saw is made from a steel pole that can be split into two pieces. This enables the user to use this saw with two different pole lengths.
It is equipped with an automatic oiler to make sure that the chain is properly lubricated at all times so as to reduce maintenance.
The engine on this saw can also be attached with accessories so that it can be used as a hedge trimmer, blower, etc.
Additionally, you can rest easy knowing that your purchase is covered by two years of manufacturer's warranty.
Poulan Pro Gas Powered Pole Pruner
This pole saw is from the Poulan and it comes equipped with a two-stroke 25 cc engine that is powerful enough to cut through branches and limbs that exceed six inches in diameter.
Poulan pro is specially designed to reach up to 12 feet, depending on the height of the operator, this model also features spring assist, which ensures that the appliance will start easily under any condition.
This model is also to be compatible with Pro Link Attachments and is ideal for carrying out all kinds of the light pruning and the trimming maintenance.
Due to the 8″ saw bar with three foot extension, the saw ensures a reduced pull effort of up to 45% during use.
As with all Argos tools, this machine includes an automatic gear-driven oiler, which keeps the bar and chain properly lubricated throughout the longer cutting sessions.
TrimmerPlus Pole Saw Attachment
Anyone searching for the easiest and safest way to trim trees on their property should consider this easy and safe option.
With the 12inch bar and chain and the automatic oiler for additional convenience, this is the great value gas powered pole to the saw from TrimmerPlus. Lubrication is continuously maintained at an optimal level with this pole.
The saw can reach 12 feet thanks to the 7 foot pole, allowing it to prune and slice through branches without ever having to use a ladder.
By using the two unique extension sections, the user can choose both a hight and a lowt to suit a variety of cutting jobs.
Saws like this one can be attached to attachments capable trimmers, including those made by well-known manufacturers such as craftsman, Remington, and Troy-Bilt.
A manufacturer's limited warranty of 2 years is included.
Poulan Pro Pruner with Trimmer Head Attachment
This two cycle gas powered pole to the saw from the poulan has to be a top notch 25 cc engine which is heavy duty enough to cut through limbs and the branches with ease.
It has an eight inch cutting bar, this model also comes with an included trimmer head of the attachment for the extra flexibility and versatility.
Depending on the user's own height, this model can be easily reached up to a total of 12 feet like the other pole saws,
when the arms are fully extended, enabling the user to reach up to the taller trees and the bushes for the trimming and pruning.
Featuring surefire to the start technology with the spring assist and the start up are guaranteed to be easier in all kinds of conditions.
Prolink so that it can be attached to the capable in the model, enabling the use of a variety of applications
as well as cutting and the pruning with the option of adding up to 6 different attachments for the edging, brush cutting, blowing, hedge trimming and the tilling.
Poulan is the products that are backed up by a long and innovative history and are known to be powerful and long-lasting for the years of reliable usage that create great advantage for you to get that on for every type of work.
Husqvarna 10 Inch Detachable Pole Saw
Husqvarna tools are well known for their quality and power, and this 10″ pole saw is no exception.
Despite its power, this model is impressively light, enabling the user to cut all kinds of grass and do yard work with ease.
It is built to be multipurpose and has a strong braided wire cable drive so it can be used for countless uses.
It is a great lawn and garden tool for homeowners who want an effective and straightforward tool.
The shaft is detachable, allowing a convenient arrangement for transportation and storage; the stop switch on the shaft is automatically set to the on position for easy start up.
This saw is very easy to handle as it is lightweight and can be used either with or without the trimmer head blade, and the cutting guard can be used with either or both.
This engine is specially designed to have a quick start with the least effort possible thanks to its integrated technology and to the air purge technology that eliminates air from the fuel system and the carburetor.
This implies not being affected by the environment, as well as starting in a cool environment.