From remodeling to reconstruction, one requires a good quality nailer to perform the task properly.
It is now a common problem that a nail gun or a nailer stops working due to a lack of air.
Especially if you own a pneumatic nailer, the roofing nailer is the one; it requires a small portable air compressor to work efficiently without any interruption.
The Best Air Compressors for Roofing Nailer
| | | |
| --- | --- | --- |
| Best Air Compressor for Roofing Nailer | Features | Check Price |
| CRAFTSMAN Air Compressor (CMEC6150K) | Portable device | Check Price |
| BOSTITCH Pancake Air Compressor (BTFP02012) | 75% duty cycle | Check Price |
| Makita MAC210Q Quiet Series Air Compressor | 2.0 CFM | Check Price |
| DEWALT Air Compressor (DWFP55126) | Eight-gallon tank | Check Price |
| California Air Tools 8010 Air Compressor | Extremely portable | Check Price |
As many devices are now available in the market, it is becoming harder for buyers to decide.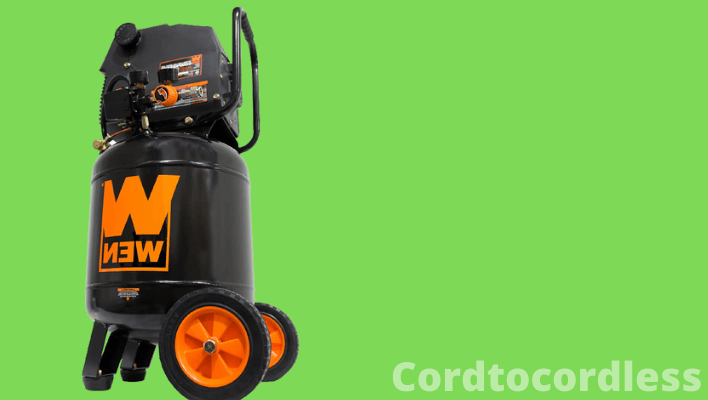 To let you make an easier and quick decision, we've compiled here a list of the best air compressors for roofing nailers.
CRAFTSMAN Air Compressor (CMEC6150K)
Performance
This air compressor is equipped with oil-free technology, requiring less maintenance and eliminating additional lubrication costs.
Furthermore, this air compressor supports cold starts, so you won't have to worry about the cold in the winter.
This air compressor can easily operate at a maximum pressure of 150 PSI and delivers 2.6 SCFM at 90 PSI, allowing
you to use it for a variety of tasks other than driving roof nails. This air compressor's engine required 120 volts to operate by default.
Design
It's a dependable compressor made in the United States. The material from all over the world is also used, demonstrating its high capacity.
The drain valve is located between the rear feet, and there are three rubber feet on the underside.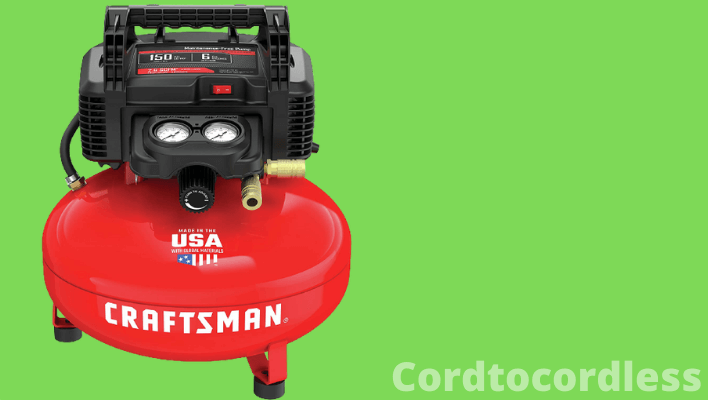 These rubber feet support the compressor's weight. Two connections, a pressure regulator, and a safety valve are then added.
It has two digital displays facing up. As a result, you'll be able to easily keep track of your measurements.
Finally, there's the upper handle for lifting the entire unit. The power cord for the device is 62 inches long and can be stored behind the handle.
Moreover, 33 pounds of weight makes it easier for the users to carry for extended operations.
Pros
Comes with 13-piece accessories
Extremely portable device
High pressure
Provides amazing efficiency
Cons
Final verdict
We put this device as our first choice because we didn't find any such con of it as well as it is the most liked device.
Moreover, it comes with a one-year warranty for long-lasting companionship, especially for DIY enthusiasts.
BOSTITCH Pancake Air Compressor (BTFP02012)
Design
This pancake air compressor is their first product, and it is already a market leader. Because it benefits users, the product's design and mobility stand out.
The small tank, the size of a tank, necessitates some setup space.
The tank's cortical shape aids in loading 6.0 liters of air into the tank for maximum power to power pneumatic power tools.
With the tank empty, the tool weighs 29 lbs.
The air compressor has rubber-coated feet for a more stable stand.
All these features add to the portability benefit.
Efficient motor
Because of its efficient motor and oil-free pump, the Bostitch BTFP02012 pancake-style air compressor is also useful.
Even if the tool's engine has a fraction of the horsepower, it can skillfully fill its tank. With its 0.9 hp engine,
it can also hit many pneumatic power tools that are difficult to use. Even in cold weather, the tool has a light starter motor.
Quiet Operation
This Bostitch BTFP02012 air compressor provides complete support for creating a calm environment when using power tools.
It produces less noise but more energy. The Bostitch BTFP02012 has a noise level of 78.5 DBA to ensure a quiet workplace.
This feature allows users to work in the quietest environment possible.
Furthermore, the oil-free pump eliminates the time-consuming task of wiping away sticky oil or repeatedly refilling the pump.
It also provides you with a simple guide without the need to request an oil change. This noise-free tool can operate for up to 450 hours, enabling the carpenter or DIYers to work for extended periods.
Pros
Quieter operation
Recovering time: 20 sec
75% duty cycle
Value for money
Cons
Final verdict
We were forced to put this product as our second choice due to its amazing performance and significantly smaller footprints. This heavy-duty device will definitely not disappoint you in your next project.
Makita MAC210Q Quiet Series Air Compressor
Design
Makita is known for manufacturing the best power tools, so we can't ignore this name for air compressors.
This device is a robust, well-built compressor with a durable design and full roll cage, just like the other three compressors in the Makita Quiet series.
The MAC210Q, like its brothers, is virtually maintenance-free thanks to its oil-free pump and direct-drive induction motor.
At 90 PSI, a powerful one-horsepower engine produces 2 CFM airflow. You can use most pneumatic nail guns and small pneumatic air tools with this amount of air.
The 2-gallon air tank fills in 65 seconds from empty to 135 MAX PSI.
The MAC2100Q can be connected almost anywhere, thanks to its low power consumption of only seven amps.
Noise-free operation
This device is one of the quietest air compressors we've ever seen, with an operating volume of only 60 dB.
It is also significantly more expensive than comparable compressors.
Despite this, it has many great features, such as a maintenance-free design and a low speed that gives it a longer life than the competition.
This compressor may have trouble operating air tools with a flow rate of 2 CFM at 90 PSI. It will not be able to drive anything larger than a nail gun.
We had a few issues with finish nail guns on this compressor, so it didn't make the top of our list.
Pros
Powerful motor
Quite functioning
Oil-free pump
2.0 CFM
Cons
Final verdict
This power tool has got features that fit the needs of all types of buyers, providing them with noise-free functioning.
Moreover, if you are tired of cleaning and maintaining the device you are using, we suggest you go for the device mentioned above as it is a maintenance-free one.
DEWALT Air Compressor (DWFP55126)
Portability and Maintenance
Working around the house necessitates a certain amount of mobility.
The DWFP is light enough to carry from room to room at just under 30 pounds, and the top handle appears to be well made.
You can use it anywhere without scratching the floor, thanks to its rubber feet. DWFP is also extremely stable, unlike some other compressors.
It's easy to store because of the pancake shape and small dimensions (17.2 x 16.6 x 20.1).
The useful cord winder is also true to its name. Because DWFP is an oil compressor, it will require little maintenance in the long run.
It also has a ball drain valve, allowing for quick and easy tank emptying.
Design
The first thing that catches your eye is the pancake-shaped body. As a result, it has a massive storage capacity of 6 gallons while still light enough to carry around.
You will fall in love with it right away if you are a home improvement enthusiast.
However, this thing is not powerful enough for industrial applications; but it is expected of a smaller and more portable tool.
When compared to small compressors, the larger tank allows you to accomplish a lot more.
It is made of high-quality materials and is one of the most long-lasting air compressors available.
Damage is avoided thanks to the rubber feet on the bottom. It has a very strong handle for safe transportation.
Pros
Easy to use
Highly portable
165 psi pressure
Efficient and powerful motor
Cons
Not fairly priced
Not ideal for heavy-duty jobs
Final verdict
The high-capacity tank is one of the features that lead us to add this device to our list of the best air compressor for roofing nailers.
California Air Tools 8010 Air Compressor
Performance
The CAT-8010 is equipped with an SP-9413 series ultra-quiet pump motor with thermal overload protection to prevent overheating damage.
This is a two-piston oil-free pump that you must use for 3000 hours before being serviced.
The SP-9413 has a continuous output of 1.0 hp and a peak output of 2.0 hp. Filling the 8-gallon air tank from empty to 120 PSI takes only 165 seconds.
It takes about 60 seconds to recover from 90 PSI to full 120 PSI.
This compressor is portable and weighs 48 pounds, in addition to being extremely quiet.
Because the CAT-8510 draws only 8.5 amps, you can use it almost anywhere in your home, including outdoors and in the garage.
Least Maintenance Required
Because the California Air Tools 4620A requires very little maintenance, it is inexpensive to maintain and repair, saving money and time, and aggravation.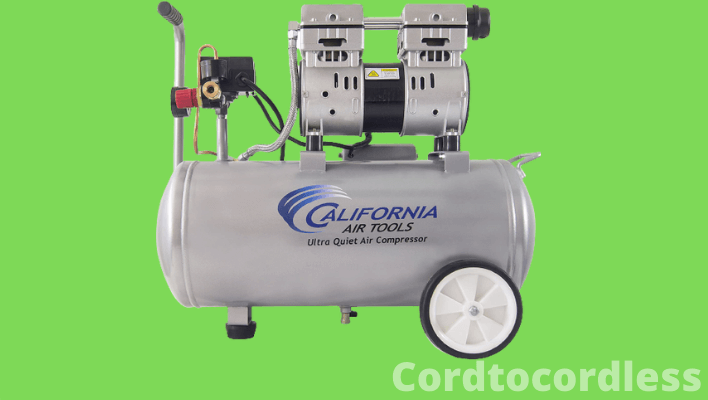 This device is a very quiet air compressor that can be used indoors or in urban areas without making noise. This is a good way to reduce noise.
Rust does not form in aluminum tanks.
This means you won't have to be concerned about rust peeling off, accumulating, and clogging the pipes,
which can lead to a dangerous clog. As a result, the California Air Tools 4620A is a true safety-conscious option.
Pros
Equipped with 1 HP oil-free pump
One year warranty
Eight-gallon tank
Lightweight and portable
Satisfied customers
Cons
Not ideal for applications requiring high CFM
Final verdict
Are you tired of working in noisy surroundings or the voice generating from your device?
If yes, you must have your hands on this extremely quiet device that also offers a lightweight body, enough for one person to carry.
Buying Guide:
Some important factors must be considered while buying any product. In this guide, we will discuss some of the most important factors that will help you choose the right product for your projects.
Especially, if you are a beginner in this field, you must not invest your money in a product that will lead you to regret it once bought.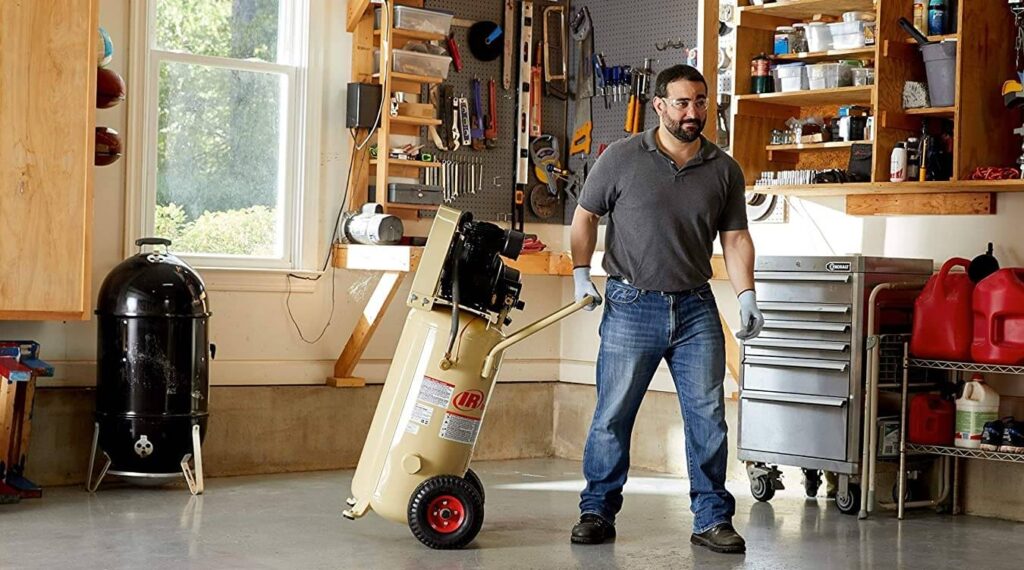 Carefully consider all the features mentioned in our guide so that you can choose the correct product out of many claiming to be the best.
Afterward, we've mentioned some frequently asked questions to let the confusion not bother you anymore.
Quieter operation
Only those who have worked with noisy machines understand how much trouble it is to work in a noisy environment.
Yes, you will not enjoy working on projects if the tool is set too high.
Furthermore, it is very likely to enrage your neighbors. As a result, check to see if the air compressors are as quiet as possible.
PSI (pound per square inch)
PSI (pounds per square inch) is a measurement of pressure in pounds per square inch. we pay attention to this factor. When it comes to PSI, there isn't much variety on the market right now.
Most devices on the market can deliver 90 PSI. Some can deliver a higher PSI in the second of their two phases.
For the best results, purchase such a product.
Horsepower
Horsepower is the amount of power an engine can produce or the amount of work it can perform.
When it comes to choosing an air compressor, horsepower isn't a major consideration.
The increased horsepower speeds up the filling of the air tank, consumes more electricity, and generates more noise.
However, when it comes to nail guns, particularly roof nails, continuous air pressure is not required to complete the process.
A 0.8 HP to 1.5 HP air compressor is sufficient for nail work.
Air Tank Capacity
The air compressor's most important component is the air tank.
As a result, choose a large-capacity air compressor to ensure constant pressure throughout the process.
Simply put, a large tank can provide air pressure for a longer period.
However, you will not be able to nail the roof with your massive compressor capacity in the garage.
Because you may need to go from place to place to do nail work, you'll need a super portable device.
Durability
When looking for an air compressor, always pay attention to the machine's durability, as the durable machine can serve you for a long time.
And make sure the air compressor warranty period.
Our selected air compressors have a warranty period of 1 to 2 years; if you are interested, you can choose one.
What size compressor do I need for a roofing nailer?
If you have a crew and use three or four guns, look for a compressor that can hold more air in gallons.

A 5- or 8-gallon tank is insufficient for more than four roof cannons. For 2-3 roofers, a 6 gallon would suffice.
Will a pancake air compressor run a roofing nailer?
The answer to the most asked question is yes, a pancake air compressor works great for a roofing nailer.

Most of the models mentioned above of air compressors are pancake-shaped and are our top choices for roofing nail guns.
How do I choose an air compressor?
Choose the one that requires the most CFM at the highest PSI. For a safety margin, multiply the required CFM by 50% and look for a compressor that meets the criteria.

Choose a compressor that provides at least 4.5 CFM at 90 PSI if a tool requires 3 CFM at 90 PSI.