You are a new owner of your house and you also know exterior paint matters because that shows the beauty of your house from outside.
As well, it is especially challenging for beginners who have no experience to accurately use brushes or paint sprayer or roller.
To get the right paint sprayer for your home looks too easy for everyone to do but in actuality this is not an easy task for new people because while selecting it is necessary to look at different options and requirements.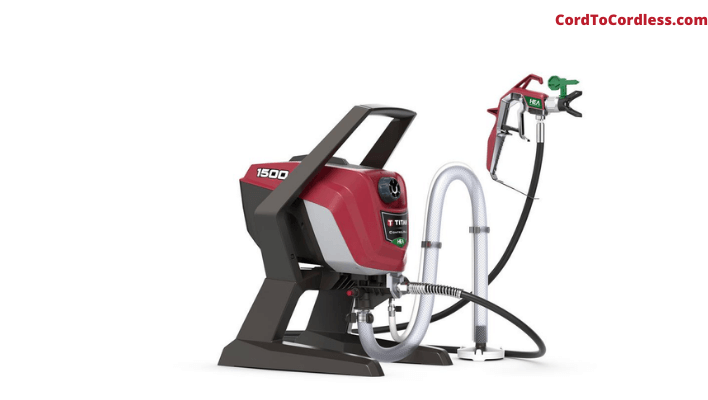 So, we find the perfect paint sprayer that can easily make the work more well for you and also a best option for beginner and professional people.
Best Paint Sprayer For Home Use
Graco Magnum 262800 X5 Stand Airless Paint Sprayer
This is the special product which is made by the brand Graco, this sprayer plays a vital role to paint houses easily and as well can be used by anybody.
Magnum 262800 can do its jobs inside or outside of the house. 26800 makes it easy for DIY homeowners and as well for handymen to power through every type of jobs with speed and finesse.
This is made of a powerful machine that allows it to complete jobs with speed and with precision.
Are you looking for just a house exterior wall? 26800 is the budget friendly choice, for professional work is an ideal choice
Because this airless sprayer is not just for houses, it is well ideal for painting all types of indoor projects, or outdoor projects such as decks, siding, fences or homes.
26800 always cares for its consumer and provides not only just sprayer but also with SG2 Metal Spray Gun, strong pump Armour storage fluid, a PowerFlush adapter, a instant Start-Up Guide RAC IV 515 Switch Tip, 25 ft. Duraflex paint hose, and Operation Manual, Outlet Size (in): 1/4.
By looking at all these things, we consider it the best airless paint sprayer for exterior house and as well exterior stucco.
Titan Tool 0580005 High Efficiency Airless Paint Sprayer
A DIYer who does not have much free time on hand and does not carry weight for a long time to spray the whole backside of the house,
Titan is lightweight with this ability as well providing high performance to complete the project as quickly as possible.
Its high efficiency of airless gun (HEA) Technology, its main mission to decrease overspray by up to 55% while delivering softer spray, deliver free rein over mean how much paint to use throughout in DIY jobs.
Its HEA pump is a powerful and durable sprayer that can easily spray unthinned coatings with a rebuildable fluid section that maximises the sprayer's life.
Graco Magnum 262800 contain much of other feature that you not get on titan but Titan Tool 0580005 provide other feature which not contain by Graco Magnum 262800
This sprayer contains both power source options meaning it works on AC and DC which make it right and best paint sprayer for home use.
Titan is too strong a device that looks too difficult to use. This is too easy when you start using this device it becomes easier to paint like a pro.
Wagner 0580678 Control Pro 130 Power Tank Paint Sprayer
Thanks to its smart design Wagner 0580678, due to its smart design this tool can easily store as compared with other choices on the best list of sprayer.
Wagner 0580678 Control Pro 130 Power Tank Paint Sprayer is a great way to save money while doing a professional job of painting.
This Paint Sprayer is a lightweight sprayer that is easy to use and clean. As well, that is also perfect for painting an entire house. This Paint Sprayer is easy to use and does a superior job on all types of paint.
And the best part is, you don't need to worry about messy priming or the hassle of cleanup afterwards which make it the best paint sprayer for home use.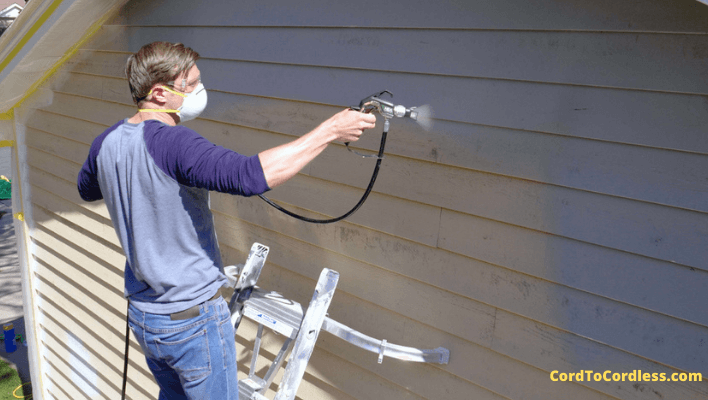 Simply put in your paint or stain, fill up the tank with water, plug in, and you're ready to paint. In fact, you'll save so much time, money, and effort that it's almost impossible to go back to traditional brushes and rollers.
The Wagner 915 is no exception to this rule. It sprays paint in the same way that much more expensive sprayers do and has a large, easy to fill hopper.
It also has a 25 ft. hose that cuts down on the need to constantly refill the tank. This sprayer is also perfect for large projects.
Graco Magnum 257025 Project Painter Plus Paint Sprayer
Graco Magnum Plus Paint Sprayer is an exterior paint sprayer that gives your home a professional-grade finish. It has the right amount of pressure to cover any job that you can throw at it, including staining and varnishing.
Graco Magnum Plus Paint Sprayer is one of the powerful, high-volume paint sprayer which is a great thing designed for professional contractors and do-it-yourselfers.
It's ideal for painting houses, fences and decks; sealing concrete, stucco and masonry; and spraying decks.
It works great on all surfaces, including wood, metal and wicker. The Graco Magnum Plus Paint Sprayer is perfect for small DIY projects.
No more backbreaking labour or hiring a painter to do the work for you!
The heavy-duty motor delivers up to 3 times more spraying power than other brands and has a larger paint cup so there's no stopping in the middle of your work and that's why it is the best electric paint sprayer for exterior houses.
Graco Magnum Plus Paint Sprayer is the best paint sprayer for both interior and exterior use.
The idea of painting a house always looks messy, time-consuming, and costly. However, with the best paint sprayer graco can do it faster and easier than ever before.
Graco Magnum Plus Paint Sprayer is a premium paint sprayer which helps you to paint your interior home in less time.
Graco Magnum Plus high performance paint sprayer has two models i.e. Home Pro and ProMax, both available at the market.
Both are total professional grade painting machines with accessories for any of your needs.
The price of this tool is on budget and for exterior house paint sprayer rental might not work for this tool.
Graco Magnum 262805 X7 Cart Airless Paint Sprayer
This is the new model of the Garco company which is equipped with the latest technology to provide the best performance on user tasks.
The Graco Paint Sprayer can provide up to 30 percent more power, which means less paint overspray and less runover.
I needed a power sprayer that would do the job for my paint projects around the house and this graco sprayer was the perfect choice for me.
It was very affordable, yet it was made from durable material that was stainless steel.
This sprayer came with a large tank which enabled me to spray for longer periods of time and it was very lightweight and easy to use. I had no issues with this sprayer and I will continue to use it for many years to come.
I've never used a paint sprayer before. Assembling it took me quite some time, but once it was set up, I did a test run on a spare board to make sure everything worked alright.
You have to make sure you mask off the areas you don't want painted or they will get sprayed just as if they were included in your design.
I would recommend buying an extra 25 feet of hose though because it can be somewhat inconvenient when you have to stop and reposition the sprayer since you never know where your project's boundaries are going to fall.
Graco's patented piston pump design delivers consistent flow rates and pressure, even when paint viscosity or air pressure changes.
The Graco Paint Sprayer is designed with a stainless steel piston pump that creates a strong, steady stream of paint and a durable, long lasting trigger that resists sticking.
Most professionals consider it a best professional paint sprayer and they are using it as a versatile tool to get better and smooth colour finish.
Tips And Tricks Use Sprayer For House Exterior
Painting is a really expensive and time-consuming work, so there are many things you need to understand that make it more understandable for you.
Here are some useful tips and tricks that are very useful for painting the exterior of your house. This thing is also very useful for you if you already have a better paint instrument. By having all these things you will be able to handle the work on this project without any problems.
Pressure Wash The Surfaces
Pressure washing is necessary to getting good results with your exterior house painting project.
It helps remove any grime and loose paint which would be a pain to remove later otherwise and also helps save time as well, when you don't have to remove it later on.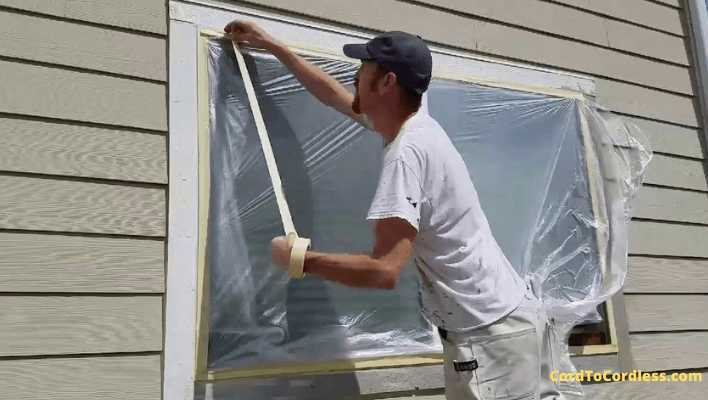 Because it's important to get started on exterior house painting on the right foot by removing any elements that could derail you, this is a job done best before removing all old paint and starting fresh. (If pressure washing an already primed surface, use a gentler setting for less damage.)
Repair Damaged Surfaces
If you paint over chipped or cracked paint, it can lead to bigger problems. As the moisture and heat from the sun dry the paint, it will crack more and more.
The best way to repair that is to apply some primer to the chipped area and let it dry for about 24 hours.
Then you can paint over it, as if it was never damaged. The primer will seal the area, and it will stop the paint from cracking or peeling.
Protect Doors, Windows, Lights, Etc
You also need to watch out for the doors of your home, as well as the lights, switches, and anything else that will be affected by the paint or primer you use.you should put a piece of tape over the glass so you don't accidentally paint over it.
You should also make sure that your stairways are completely clean before you start painting, as paint is sticky and can easily be left behind. This can create a slippery situation for anyone who uses the stairs.
FAQ
is it better to roll or spray exterior house paint
It depends on the situation. In most cases, rollers are superior in quality. They give a smooth finish that is not possible with sprayers.

They are much easier to clean and very safe to use. Brushes, pads and rollers are all available in different sizes, making it easier for you to choose one that is suited to your project.

Further, rollers do not get clogged up as easily, so you can finish the job more quickly. However, painting with a roller can be very time consuming, especially if you are doing a large project.

If you decide to paint with a roller, you may need to apply a second coat. This takes more time than spraying and requires more planning.

Conclusion
If you have a home improvement project that needs to be painted, you don't have to spend all that time and money on a painter.
You can buy a sprayer and do it yourself. A spray gun is a powerful tool that you can use to paint almost any outdoor surface.
However, there are many options when it comes to choosing paint sprayers. So, how do you know what the best one is? We have compiled a list of the top paint sprayers for you to choose from.