Hi, Framers! Are your corded nailers creating a problem for you?
Do you want to feel free when you're striking nails for your new house or renovation project?
Our Recommended Picks For You
Afterward, welcome to the best cordless nailer world.
The use of cordless framing nailers simplifies the work of a framer.
To join two pieces of wood, just push the nail gun's tip on the surface and squeeze the trigger to fire the nail.
It is a waste of money to get a cheap cordless nail gun that will not last long.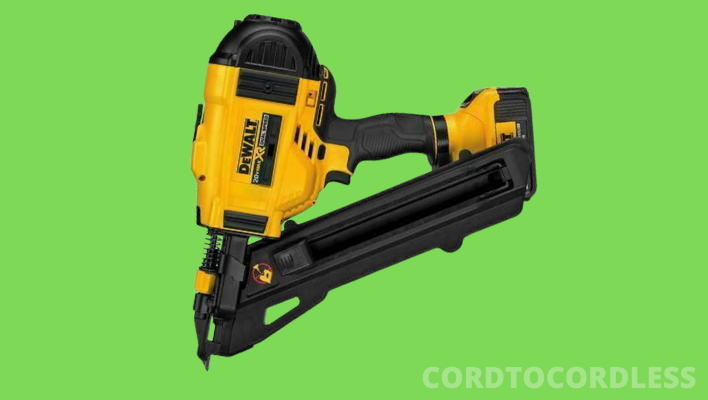 To put it another way, not all cordless frame nailers on the market today are worthwhile investments.
This article will provide you with helpful information on how to choose the best cordless frame nailer.
Buying Guide For Battery Powered Framing Nail Gun 2022
It's easy to get overwhelmed by all the options and models while looking for the best cordless frame nailer.
For reducing your confusion, we presented the best cordless framing nailer with honest Guide to help you sort things out.
However, if you want to be certain about which feature you'll need to put in quality time and effort, go to the buying guide beneath.
Battery and Fuel Cell Combo
Cordless framing nailers can be powered by a battery or a combination of fuel cells.
It is possible to drive a large number of nails with one charge in battery-operated cordless nail guns.
However, it's always a good idea to keep a spare battery on hand in case your primary one dies in the middle of a job.
Due to the fact that the fuel cell is utilized in combination with a battery, the body of the nailer equipped with this technology can become very large.
When it comes to power, fuel-driven nailers have a slight advantage over battery-powered nailers, but they're about the same price.
Angle of Magazine
A magazine in a framing nailer can be adjusted so that it is positioned at various angles. Magazines for framing nailers are angled at varying angles.
The angles are 21 degrees, 28 degrees, and 30 degrees. Before pushing any fasteners you should take into account that your magazine must be loaded with nails with a matching angle.
Coiled fasteners can be used with frame nailers that have circular magazines.
These nailers have a magazine with a 15° incline and can hold thousands of nails at a time.
Due to their large capacity, these framing guns are bulkier and more expensive than the standard frame gun with sticks magazine.
Capacity of Magazine
The amount of nails a magazine can hold is referred to as its capacity. Framing nailers use smaller magazines, which are lighter and simpler to use.
In comparison to a pneumatic frame nailer, the cordless version shoots more slowly. More powerful cordless nailers don't always need bigger magazines. It'll come in handy for finishing work and smaller tasks, no doubt.
Actuation Modes
Actuation modes used by framing nailers include contact or bump and complete step-by-step firing.
The use of contact or bump firing is common in large tasks where efficiency takes priority over perfection.
You can discharge the nail using bump firing by pressing the frame nailer's security tip against a surface.
To drive the nail, you have the option to push the safety tip on the surface and then pull the trigger.
Bump firing is an effective technique to increase the efficiency of your work if you have a horizontal or smooth surface.
To be on the safe side, use a framing nailer in sequential firing mode. If you're going to use bump firing, be extremely careful!
Firing Modes and Trigger Size
It's impossible to have the same working circumstances every day. You may want to wear gloves if it's going to be cold.
As a result, the nailer's trigger may be too short and prevent you from holding the tool safely and comfortably in this sort of circumstance. This means that the trigger's length should be enough for comfortable use.
After that, look into the different firing modes. You may require a sequential shooting model if your project demands it.
You may require a bump actuation mode sometimes in order to speed up the completion of a project. Determine whether the cordless nailer supports both and if not, get a different nailer.
Weight and Size
Although cordless frame nailers are often lighter than corded counterparts, there is still a wide range of weights.
Use a lightweight nailer if you'll be using it over your head for long periods of time or for heavy-duty activities.
You should only choose a heavier model if the lighter one lacks certain characteristics you require but this does not happen very often.
If you just use it occasionally or for short periods of time, a moderately hefty cordless frame nailer will not cause you any harm.
When it comes to nailer size, the smaller the tool is, the more likely it is to be useful for activities that require access to confined spaces.
Price
The cost of cordless framing nailers varies widely. The most expensive nailers have many features,
while the cheapest models have fewer functions. Just keep in mind that if your demands don't call for a high-end nailer, you shouldn't spend the money on a high-end nailer.
Get a low-cost one, for example, if you only need it for minor DIY projects around the house.
There are higher models available that are appropriate for heavy-duty use, such as shooting thousands of nails per day; you'll need one that can withstand such intense use.
Clearing Jams
This is an all-too-common situation while using a nailer and getting stuck somewhere during the process.
When it comes to jams, the quality of the nailer makes a difference. So, most cordless framing nailers provide a way to clear them.
Some nailers include a single-click jam-clearing button, whereas others have a latch that must be opened.
As a result, look for a machine that has few jams and has the mechanisms necessary to clear a blockage once it does.
Rafter Hook
The use of a Rafter hook reduces the amount of weight and effort required to move the full unit.
It also makes it simple to hang the entire set. With a nailer equipped with a rafter hook, you can get more done in less time.
Battery Life
Another important aspect of a framing nailer is its battery life. The battery life of a decent nailer should be at least many hours or several hundred nails. Although the speed at which you shot makes a huge difference.
Battery-powered framing nailers typically have a nail capacity of up to 4000 nails per charge.
It's a great investment to buy such units. Buying additional batteries can solve the problem with low-cost nailers.
Depth Adjustable of Nails
No one likes to see their bending nails after they've driven. Here, no one wants, Na! The ability to adjust the depth of the drive can assist you to avoid this situation while also helping you to comply with building regulations.
How! If you're part of a serious framer team, you'll have to deal with a wide selection of items. The degree of hardness varies widely from one substance to the next.
Depending on the hardness of the material, you may have to modify the depth of the drive to prevent it from protruding or drooping and get the optimum countersink.
It's possible to get tool-free cordless nailers, although they may require a hex wrench to adjust the knob or wheel.
So, before making a decision, you must decide which approach you like the most.
Therefore, you should choose a tool that allows you to easily adjust the depth of the nails without the need for a winch.
---
Best Framing Nail Guns 2022
DEWALT 20V MAX XR Framing Nailer
The DEWALT DCN692M1 Framing Nailer Kit is ideal for large-scale home construction jobs that require a strong and dependable framing nailer.
Features
There is dual speeds option in the Dewalt DCN692, which makes it the best battery-powered nail gun.
As a result, you can customize the motor to work with a variety of different nail lengths.
You can now dissect all the hoses, fuel cells, and air compressors on the worksite or in your own house.
To go into smaller areas, the 33° magazine is quite helpful. As many as 55 2 1/2′′ to 3 1/2′′ nails can be stored in the magazine's large capacity.
This is the best cordless framing nailer DeWALT 20V lithium-ion battery charger and kit bag are all included in the price of this DeWalt framing nailer.
You may change the depth of the nailer by turning the yellow tool-free depth adjustment knob positioned at the nose of the nailer. With the tool's adjustable rafter hook, you can continue working on anything else while still accessing the tool.
Pros
Robust as well as precise
Cons
The battery has to purchase separately.
Verdict
for better trust also check the best cordless framing nailer on youtube.
Although this Dewalt DCN692B nail gun has a convenient dual-speed setting, the one downside is that you must purchase a battery separately.
Metabo HPT Cordless Framing Nailer Kit
Metabo framing nail gun kit is a strong and portable choice for heavy-duty projects like framing, building an extension, or installing a wraparound deck.
Metabo cordless framing nailer info might provide you with a better understanding of details.
Features
Lithium-ion power is used in the HPT, which is a lightweight framer with long battery life. It can drive up to 400 strip nails per ultimately charged battery at a rate of two nails per second.
Air springs boost the driving speed and create as much recoil as an old-school pneumatic nailer connected to an air compressor, so there's no ramp-up period with this gun at all. An air spring system propels each nail that comes out of the cannon.
With the tool-free depth of drive adjustment, you can achieve a professional finish on various materials. Not only did it make nailing more comfortable, but it also included a trigger switch with a side lock to prevent accidental fires.
Pros
Perfect for any framing project
Cons
There's no way to clear a jam without using any tools.
Verdict
The Metabo HPT NR1890DR nailer is the best example of unique blend quality from Japanese engineering. Even though it comes second in our rankings, this cordless framing nailer is the best in the market.
MILWAUKEE 2745-20 M18 Fuel
This Milwaukee cordless framing nailer Guide might give you full information about the product.
A high-end brand-name tool like the MILWAUKEE ELECTRIC TOOL 2745-20 Framing Nailer might be worth your money if you're prepared to pay.
Easy depth adjustment without any tools and dry fire lockout is included in this model.
Features
A powerful lithium-ion battery runs this cordless frame nailer. Because of the battery's high capacity and extended life, you can use it to remove hundreds of fasteners at once. There's no need for a separate gas canister because the battery is sufficient.
Without requiring any ramp-up time, it can drive a wide range of nails into even the toughest lumber. You can do the task more quickly and safely thanks to the two actuation modes.
Thanks to the belt hook, you may wear it on your belts and spare up your hands for other tasks or grasp onto the ladder rungs when using it to climb up it.
Additionally, it includes a 30-degree magazine for easy toenailing across two pieces of timber while moving the instrument.
Pros
An integrated LED illuminates the work area.
Suitable for clipped and full-round offset head nails, respectively.
Cons
As a building material, it utilizes more plastic than metal.
Verdict
Whether you're a professional framer or remodeling your home, the Milwaukee M18 Fuel 30 Degree Framing Nailer is made for you.
There's an LED light on the nailer, and it comes with both belt hooks and a rafter hook for hanging things but it's constructed with more plastic than metal.
BOSTITCH 20V MAX Cordless Framing Nailer Kit
Is it common for you to use pneumatic nail guns as a contractor or builder? Then anything can happen, battery's capacity daily, and you'll be knocked out of work by 20 minutes.
Bostitch claims that users would save a significant amount of time by switching to their cordless framing nailers.
Features
The GF28W cordless nailer has a 1,200-nail capacity on a single fuel container. Easy to replace and comparable with various manufacturers' red fuel cells.
Yes, Reader! It's right because the Bostitch BCF30PTM1 cordless nail gun has a crazy brushless motor powered by a battery.
As a consequence, you'll have enough energy to drive nails for your framing or remodeling job without becoming tangled in any cord if you use this.
Toggling between bump firing and sequential fire is a breeze with the selector switch's tool-free design.
If you use the improper fasteners, the tool will jam, but the stall release lever makes it simple to free it up.
This setting allows you to alter the nail's depth. Tool-less depth adjustment on a framing nailer will save you time and frustration.
Pros
There's no hose and no cartridge in this system.
Powered entirely by AA batteries
Cons
It's ideal for little tasks.
Verdict
The brushless, dual-speed engine of the Bostitch BCF30PTM1 is designed for professional performance and has all the newest features. The budget-conscious among you will be happy to know that it's a winner as well.
Makita AN923 Framing Nailer
To avoid harming siding with strong blanks and dry discharge, Makita created a powerful straight cordless nail gun with an anti-dry discharging mechanism.
Even though minor this tool does not contain a battery, but it can be used with most standard Makita batteries and delivers 2–4 amps; however, a 5-amp battery will give you the most power.
Features
When it comes to the depth adjustment dial, Makita does things a little differently.
Because it's on the bottom of the nailer's business end, access is slightly more limited than with a side- or top-mount installation. The most crucial thing is that the dial turns smoothly.
Adjustment of Actuation without the Use of a Tool
The ability to make adjustments without using any tools is remarkable.
Some models still require you to swap out the trigger to switch between single and bump fire settings.
The Makita frame nailer doesn't have this annoying flaw. Most framing nailers have a switch above the trigger that you can turn to change the direction of the nailer's head.
The Makita framing nailer is a pleasant surprise in the tool world. In terms of nail-firing capacity, the Makita AN923 can compete with the industry's best.
When you use it in single-fire mode, it is capable of driving nails through thick, resistant materials.
If you're working with more rigid materials, proceed slowly and set the nailer's pressure dial to 120 PSI instead of 140 PSI.
Pros
Excellent toenail
Impressive nose visibility
Cons
Bulky
Slightly low firing strength
Verdict
Makita cordless framing nailer has great, in avoiding toenails with good nose visibility while it's heavy and a little low on firing strength can make you frustrating.
FAQ's
Are cordless framing nailers easy to use?
The framing nailer must be simple to use because you will be using your hands to operate it. The nailer's tendency to jam should be checked.

Check the number of nails that are going to be fired at the same time, as well. The nailer's simplicity of use is influenced by the power source's versatility.
Can we use 21-degree nails in a 30-degree nailer?
The answer is yes. However, you will receive a poor performance as a result. A 30-degree nailer can often drive 30- to 34-degree nails, on average.

So, 21-degree nails might also benefit from using it. Bad nail angle causes jamming and bending. Therefore, try to apply the right degree for better results.
Which nailer is most frequently used for framing?
The cordless electric nail gun is the most popular framing nailer.

There are several advantages to using this sort of equipment over a pneumatic nail gun, including the fact that it can be operated off-board without the help of non-running components like hoses or compressors.
What kind of nailer you should have? 
If you are a professional user who expects to use the nailer on a daily basis, you can choose a high-end model that is both sturdy and pleasant to use.

If you are a do-it-yourselfer, you should opt for a nailer that is both versatile and easy to operate.
Why does the weight of the tools vary so much?
It is dependent on the material from which these tools are constructed and the characteristics that are included.

The weight of the tool can be affected by the size of the magazine and the capacity of the battery.