Fill the Grease on any machinery manually can make the hand dirty and create many hassle,
Our Recommended Picks For You
to handle this situation cordless Grease Gun is one of the best sources to avoid such a issues
because if you use a corded gun to find a circuit to keep in it cord but this only requires a charged battery to run. Ensure Use Always Best Cordless tools, For Better Results.
A grease gun is a common tool of any workshop and garage of any field used for lubrication.
Lubrication is a process which helps to reduce the friction of two surfaces.
To apply the grease to the specific areas grease gun used.
There are many types of grease guns. In which include hand power, air power, and electric grease gun.
In electric we here discuss only cordless grease guns which one is best in markets right now, in order you can take benefits from them.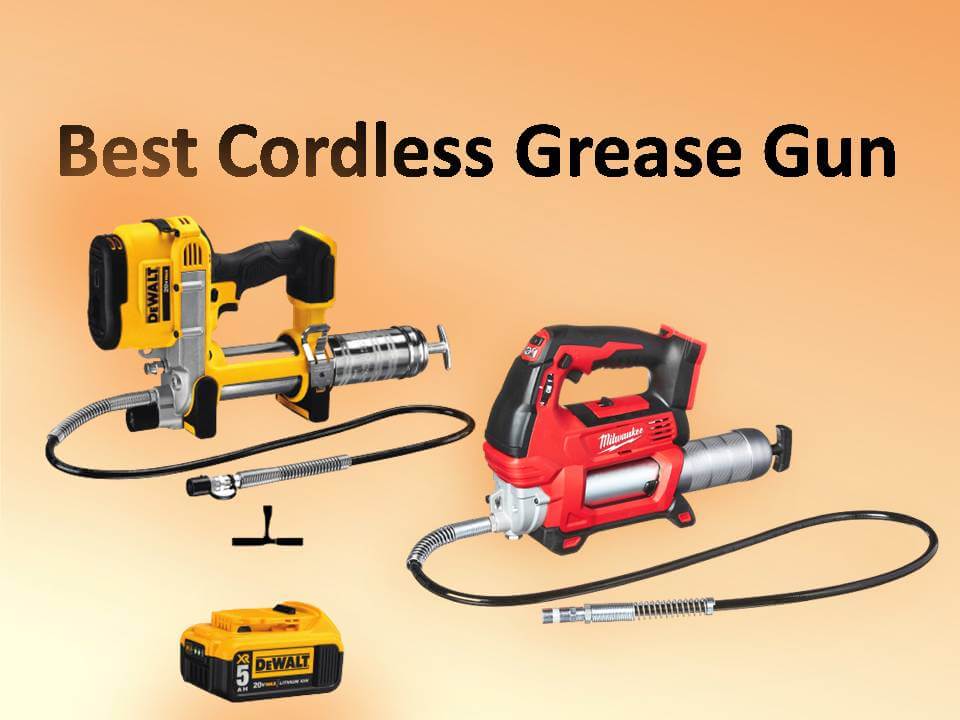 The great thing about electric cordless grease guns is that your manual work reduces as well as the only charged battery required to run,
Somewhere light not be available there will be a perfect choice is the cordless grease gun.
This is the low voltage running battery-powered grease gun that works comparable to the under-pressure grease gun.
This is the tool which is essential for any worker person.
There are many guns in the markets to find out which one is best may you feel a little difficult.
To remove that we collect the top and best grease gun and make a list and explain each one for you,
which helps you to easily pick according to your requirement.
DEWALT 20V MAX Cordless Grease Gun (DCGG571M1)
DEWALT 20V MAX Cordless battery powered Grease Gun is an easy-to-handle cordless tool. This tool is made of plastic.
The internal and external areas of this gun adjust strongly, especially the internal part of this gun is made of die-casting magnesium and fasteners that can also match the quality of the gun.
This grease gun is also very compact and lightweight which helps you to carry it anywhere. It has a 20-volt battery and Powerful motor that deliver strong pressure up to 10000 psi.
The battery timing of this tool is perfect; only one charge can give you Up to 16 cartridges.
The throw of this cordless DeWalt grease gun is very strong and it also comes with an Along hose size of 42 inches,
which helps to spread the grease where other types of manual guns feel problems and it separates the grease easily using this pipe.
This electric gun also has LED light to help in the low light environment and easily you can work without facing any issue such as crevices.
The pump filter of this gun is very secure from the damage by contaminants and dirt. users take two batteries one charge and one operate and they get easily more efficient without wire .
Its variable trigger allows operation to increase or decrease its speed. Some marketplaces come with packages like amazon or homedepot. The package of this tool is a shoulder strap ,kit box, and a fast charger.
This grease gun has many features. This device is a feature of integrated no-mar foot design which allows the user to reset the tool on a flat surface.
Its air bleeder valve assists in pump priming whenever you change the cartridge. This is the bundle of features the gun comes in handy and is worth the investment.
The pump of this gun is very powerful, its application is to push flud strongly up to 5 oz per minute in this way it supplies fastly.
This dewalt (DCGG571M1) is the perfect grease gun which available due to its best class and this one is the highest rated grease gun in our list (this one is the perfect for all type of users)
The features of this tool are more such as its powerful motor and a high volume of pump which make it perfect in 360 degrees.
The learning of this machine is extremely easy as well as of its use. The battery life is also unbeatable by doing all these quality things then it sets the industry standard.
DEWALT 20V MAX Cordless Grease Gun (DCGG571M1) comes with three year limited warranty,
which is an excellent way to judge the product that is capable of your work and if you go through a second side deal as it shows how much the company trusts its product which provides you quality for a long time.
The tool makes the place in the market as well as this can be a great product in 2021, may product also add new features( because new technology launch every year) in it to cover its cons
Pros:
It comes with fitted LED lights which prove to be extremely useful for operators.
This cordless grease gun is a battery-powered heavy duty which reduces the hesitation that comes with the coded gun.
Its pipe has a spring guard at the nipple side as well as the gun body preventing it from kinking.
A 4AH 20V lithium-ion battery Will allowed the user to take work from this gun up to 16 cartridges on a single charge of battery.
The pipe length of this gun is an excellent 42 inch which allows the user to reach out to difficult points without any hassles.
Cons:
The seals become damaged by the high pressure exist when greasing sealed bearings
Many users consider a heavier weight 9.5 pounds for this may be inconvenient.
Milwaukee 2646-20 M18 2-Spd Grease Gun Bare Tool
Milwaukee 2646-20 M18 2-Spd Grease Gun Bare Tool is a branded battery powered product.
The power tool uses an 18v battery which runs time also like dewalt product upto 10 standard size cartridges.
It also has features like dewalt product, it comes with LED light , shoulder strap, and 4 feet flexible hose( which help to supply grease at points such as to enter grease at specific points of tractor or harbor freight.
Its grease supply rate is 10 OZ per minute, that is more faster than dewalt as well as more than any other electric cordless grease gun except Lincoln which have like oz Milwaukee.
The standard feature of this grease gun like an air bleeder and lock on / off Trigger; which helps you to stop and lock the device easily, you can also to prevent children if you use this in the home garage.
The attachment plunger rod with marking indicates how much grease is left in the stored tank. The trust of this product brand can identify from there they are covered under a 5 years warranty .
It has a 2 speed delivery grease trigger suitable for fast and slow work. This electric grease gun can produce up to 1000psi.
This also has a function of patent technician that allows the opperter to pass out a preset amount of grease, this function is great for new people who never ever use or for beginners and for professionals.
Its air bleeder plug helps for quick priming work like an air grease gun which provides pressure using air.
The new tool is also compatible with a neat and clear barrel accessory. It battery pack is give long range timing and powered by M18 REDLITHIUM Battery pack, according to the brand of this machine this the industry's only 18 v grease gun which battery is compatible with a system of tools.
Most technicians recommend this tool they know and have experience related tools which work on both diesel and petrol vehicles. Using it makes jobs much easier.
Sometimes beginners may not take benefits if they understand it. use and try it on work as well as you can also see a video to learn how you can use grease gun with new features without taking help of any body
People see some things to buy products. Some people want to buy a used grease gun, some want new. The benefits of new are more than used.
Pros:
This tool design offers 2 speeds to the user, in which ability to select between max pressure and max flow rate of grease.
The trust of this company is amazing; they provide a 5 years limited warranty which is excellent, fully trusting its product in the market.
To reduce the hassles that comes with a corded grease gun , that is the battery powered which gives amazing backup with records.
The backup battery of this tool is greater dewalt, its runtime 10 cartridge oer charge which is great for workers.
Cons:
Seals can damage by the high pressure when grease selad the bearing Milwaukee
Bare-Tool Milwaukee 2446-20 M12 12-Volt Cordless Grease Gun
Bare-Tool Milwaukee 2446-20 M12 is a branded tool, which has multiple features, to use them operators can take the benefits when this tool completes the need of work and provides fullness to your work.
This cordless is easy to use and highly durable. Mechanics feel not right while doing heavy work to make the easy work of the heavy work make the long 14 inch superior handle
which makes the greasing easy and you can balance comfortably.The product is manufactured in china but has qualities in this product like the other product dewalt etc.
The pressure capacity of this tool is 8000 PSI. The priming mechanism of this grease gun works perfectly for quick flow of substance.
This machine can give you good backup, so it can deliver a maximum up to the 7 cartridges.
Height of this Gun is 14 inches and the gun body weight is 7.2 pound which is less than the other two products and make it lightweight which helps you to carry it for your work anywhere.
Hose has been upgraded to be longer as your requirement and which you consider is best for your work and it is more flexible at 36 (3 feet) inches long which helps you to deliver the grease.
The m12 cordless Grease gun has many features such as ergonomic handle design which help you to provide greater comfortment during prolonged use,
And on board hose storage and as well as shoulder strap added to provide more convenience with less mess all things support you to carry the tool anywhere for work with grease.
Some grease holes were made small which made it difficult to fill the grease in which. So, this tool is easy to overfill grease.
One notable thing of this tool that if they added in this tool may increase the value of this product is that its battery and charger, this electrical grease gun not comes with a battery and charger.
You need to buy a battery and charger for this tool if you are making the decision to buy this tool otherwise this tool is perfect in 360 sides, not more problems than other cheap and low quality grease guns.
Pros:
Use of this product is easy for both beginner and professional.
Run time gives up to 7 cartridges.only 12v charger required to charge its battery input port fixed in it.
Lightweight which helps to carry where you want.
Pressure capacity 8000psi
Cons:
Not comes with battery and charger
Ryobi 18V Volt Cordless Grease Gun P3410
This is a branded tool, which makes your work easier. This tool also comes with many features.
The maximum PSI of this tool is 10,000 PSI Which provides the best pressure according to delivery grease and its flow rate of Grease up to 7.5 Oz per minute into the required point.
Which will be amazing for your work, which you will take in as a low price tool. The amazing thing of this tool is that gun to power through the where the first grease fitting.
It also has a flexible hose which helps to reach out tight and close areas to deliver the substance.
The charging backup of this tool is amazing and comes with the best pumps up to 19 grease cartridges per charge of the battery. It also contains LED light which helps to eliminate workspace.
You also use an LED light in a dark area and that time it can easily transfer grease into your required point. It contains Trigger Lock on lock to help to avoid workplace mess pumps.
It steals grease tubes for maximum durability.
It contains an air bleeder which reduces the air pockets and as well as the valve quickly primes the pump. It also has a function called plunger rod markings that allow users to measure how much grease is left in the tube.
Pros:
Its Steel Grease Tube For Greatest Durability.
7.5 Oz Per Minute Flow Rate For Top Most Efficiency
Run Time Reinforcement 19 Grease Cartridges Per Charge Using A P108 Lithium
Cons:
Battery and charger do not include tools. You need to buy a battery to get the best response from a gun.
Lincoln Industrial 18V BATTERY OPERATED GRESE GUN DUAL BATTERY,
This pack of tools comes with a battery and charger. its heavy duty 18 volt and 120 volt power provide more power and capability. This can be controlled with its program, by controle with touch you can deliver a high volume of lubricant 10 oz per minute.
The constant pressure that this product continuously provides 7,500 PSI working pressure. Even if you can also carry it in your vehicle and the working time you can take the benefit from this tool easily without taking advantage from manual tools .
which are available in the market at a cheap price this prevents you from dirt as well as fast and his qualities then manual grease gun.
Every gun has its own power; basically, anything depends upon its price and features. There are tons of grease guns including the popular names:
Lumax, UTOOL, GreaseTek, Slippery Pete ,Bravex ,DEWALT Lincoln, Milwaukee, and many more. Now there's no need to spend big bucks just to get the best grease gun that is included in that list.
Pros:
Power source is air.
Comes with 2 battery packs.
2 speed transmission provides high volume and max pressure.
High torque motor for superior performance.
Cons:
Warranty of this tool is repair only
FAQ:
Why use cordless battery powered grease gun?
Any worker uses heavy machinery or equipment when machines regularly run it dry and give the performance not right as compared to before it.

Moving parts require lubrication regularly to give a performance at optimal levels.

Unsuitable Application of grease to the moving parts of machinery could sport wear and tear and could cause significant damage to the machinery.

Therefore grease require when applying the grease manually and with corded take time and cause hassle to remove the inconvenience of cordless grease gun use which has multiple features.
How to Use Cordless Grease GUN?